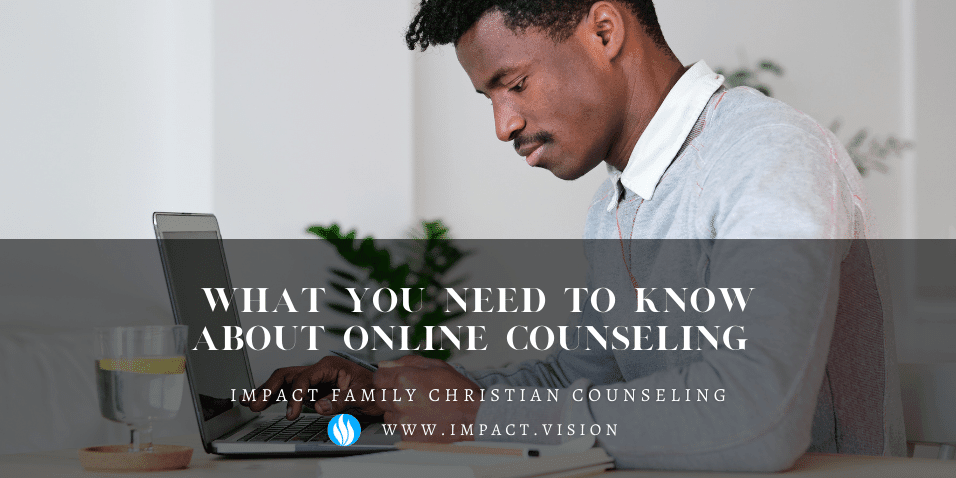 What You Need To Know About Online Counseling
You can have immediate and affordable access to a therapist with the click of a mouse or the press of an app or also known as online counseling.
Online counseling is usually conducted over the internet, typically by live video chat, messaging apps, email, or over the phone. Since the onset of the COVID-19 pandemic, the profession of e-therapy, often known as online counseling, has exploded in popularity, allowing patients to communicate with a Christian counselor from the safety—and comfort—of their own home.
The internet has provided new opportunities for counseling, but there are certain advantages and disadvantages to consider before deciding whether or not online counseling is good for you.
What is Online Counseling?
Counseling services delivered using the Internet are referred to as online counseling. Unlike in-person therapy, it allows you to communicate with a qualified counselor from any device.
This type of counseling can take place in real-time. Despite its limits, this sort of treatment is gradually becoming a vital resource for a rising number of individuals.
Pros of Online Counseling 
You may get treatment from anywhere if you have a reliable Internet connection with online counseling. You won't have to waste time or money driving to appointments, dealing with traffic or public transportation, parking, waiting in a reception area, or taking time away from work. The ease of online counseling removes many of the barriers that hinder people from accessing in-person counseling.
When you only see a counselor once a week for an hour, it might be tough to remember all that has happened in the previous week. Between live sessions, being able to email or contact your therapist allows you to express your feelings and difficulties in real-time. Some online counseling provides chat features that might help you keep track of your progress and track any setbacks.
Seeing an online counselor from the privacy and comfort of your own home can help you open up, be more vulnerable, and manage better with challenging emotions that may surface during a therapy session. If you have mobility concerns, a chronic sickness, or a condition that makes leaving your house difficult, online counseling may be the best option for you.
Many individuals still believe that seeking help is a sign of weakness. It's simpler to get anonymous therapy online than it is to see a therapist in person. During Christian counseling online, you never have to worry about running into someone you know in the therapist's parking lot or waiting area.
Cons of Online Counseling 
When it comes to this counseling, the strength of your internet connection and the dependability of your gadgets are critical. It's doubtful that you'll be able to maintain an uninterrupted video conference with a therapist if you can't stream movies online. Of course, even the greatest connections and equipment might have issues, causing your therapy session to be disrupted or cut short. 
Although video conferencing can be beneficial, it may be more difficult to connect emotionally when you are not physically in the same room as the therapist. Your or the therapist's language clues might be lost even while communicating via video.
There's always the risk of falling victim to an unskilled or shady counselor while seeking services online. Always examine a counselor's qualifications or utilize a trustworthy third-party agency that screens all of the counselors on their list.
Is It Effective?
Online counseling appears to be just as successful as traditional face-to-face therapy, according to research. In one study, researchers discovered that this type of counseling can successfully treat depression, anxiety, and illness-related emotional discomfort when paired with clinical treatment. 
While online counseling is a relatively new kind of treatment, it shows that it can be just as helpful as in-person therapy for many people. It may even be simpler for you to start opening up about your troubles if you speak from the safety of your own home. Online counseling also allows you to speak with a competent Christian counselor from anywhere in the globe, without the cost, time, or hassle of meeting in person.
Maximize Your Sessions 
Finding the correct counselor for you is crucial in any sort of treatment, whether online or in person. Credentials, experience, and philosophy are all valuable, but the bond you have with your therapist will frequently determine the effectiveness of your sessions.
Because an online counselor will become your partner in healing, rehabilitation, and growth, it's critical to find someone who makes you feel heard, supported, and cared for. You must be able to trust this person enough to open up about personal and frequently difficult topics, as well as to be honest about your thoughts and feelings.
Takeaways 
Online counseling can be a good and convenient approach to getting mental health help. However, this does not imply that it is fit for everyone. Your condition and the intensity of your symptoms will determine whether or not online counseling is right for you.
If you want to pursue internet treatment, do some research before selecting a service. Examine the reviews and don't be scared to inquire. Finding the appropriate online therapist takes time, but the work is definitely worth it.