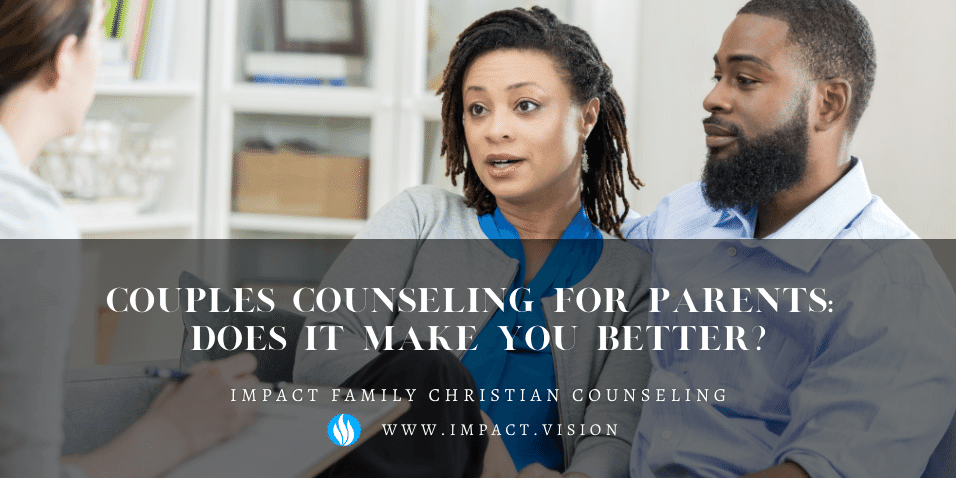 Couples Counseling for Parents: Does It Make You Better?
If you're struggling to communicate with your partner, or if you're simply looking for ways to strengthen your relationship, couples counseling for parents can be a great step to take. 
Being a parent is one of the most challenging roles a person can have. Not only are you responsible for taking care of your own needs, but you also have to make sure your children are happy and healthy. It's no wonder that parenting can be stressful, and that many couples find themselves arguing more often than they'd like. 
In couples counseling for parents, you'll learn new communication skills and problem-solving techniques that will help you navigate arguments in a more constructive way. You'll also have a chance to explore the emotions and stresses that come with parenting, and to find new ways to support each other. 
Counseling for parents and children can be an invaluable tool for any family who wants to build a stronger, healthier relationship.
What is Couples Counseling for Parents? 
Couples counseling for parents is a type of counseling that can help improve communication and problem-solving skills within a relationship. It can be especially beneficial for couples who are struggling to cope with the challenges of parenthood. Counseling can provide a safe space for couples to openly discuss their feelings and concerns.
It can also help them to develop new ways of dealing with conflict. In addition, counseling can teach parents how to better support and understand each other. Ultimately, couples counseling for parents can provide a much-needed source of guidance and support during one of the most challenging times in a relationship.
What to Expect During Couples Counseling 
Going to couples counseling for parents can be a daunting experience, especially if it's your first time. You may be worried about what you'll discuss, how long it will take, or what the counselor will think of you. However, couples counseling can be a valuable tool for addressing relationship issues and improving communication. Here's what you can expect during your first session.
The counselor will likely ask each partner to share their perspective on the problem. Then, they'll ask questions about your relationship history and how you communicate with each other. The counselor may also give you some tools to use outside of sessions, such as home assignments or readings. If you're feeling hesitant about going to counseling, remember that it can be a helpful way to work through challenges in your relationship.
Does Counseling Make You A Better Parent?
Anyone who has ever been a parent knows that it is one of the most challenging jobs in the world. From the moment our children are born, we are responsible for their safety, their wellbeing, and their future. It is a monumental task, and it is one that we often feel ill-prepared for. 
Many new parents find themselves feeling overwhelmed and unsure of how to best care for their children. Couples counseling for parents can be an invaluable tool for parents who are struggling to adjust to the challenges of parenthood. Through counseling, parents can learn how to better communicate with their children, how to set boundaries, and how to cope with stress. 
In addition, counseling can provide parents with the support and guidance they need to feel confident in their role as a parent. As a result, counseling can help to make parents better equipped to handle the challenges of parenthood.
The Stigma of Counseling 
For many couples, the very idea of counseling conjures up images of a last-ditch effort to save a failing relationship. In reality, however, couples counseling for parents can be an extremely valuable tool for couples of all types. Whether you're struggling with communication issues, conflict resolution, or simply want to deepen your connection, counseling can help. 
The key is to find a counselor who is a good fit for you and your partner. Once you've found someone you're comfortable with, you'll be able to openly discuss the issues that are impacting your relationship. Counseling can be a difficult process, but it can also be immensely rewarding. With the help of a qualified couples counselor, you and your partner can learn to overcome the challenges you're facing and build a stronger, more lasting bond.
Find A Couples Counselor You Can Trust 
At Impact Family, we understand that finding a couples counselor you can trust can be a difficult and daunting task. After all, this is a very personal decision that will have a profound impact on your relationship. That's why we take the time to get to know you and your partner so that we can match you with the counselor who is the best fit for your needs. 
We believe that every relationship is unique, and we will work with you to create a customized treatment plan that addresses your specific goals. Whether you're struggling with communication or conflict resolution, we will help you find the path to a happier and healthier couple and parenting relationship. Contact us today to schedule your first intake session.