Couples Healing Retreat Terms & Agreement
Thank you for registering for the Private Marriage Healing Retreat with Jack & Jhael Hakimian. We look forward to seeing you at the retreat. If you have any questions please email us at This email address is being protected from spambots. You need JavaScript enabled to view it..
1 Couple, 48 Hours, 365 Days of Growth!
Private Marriage Healing Retreat with Jack & Jhael Hakimian in South Florida
It is hard to get breakthroughs in one to two-hour sessions when, as a couple, you are distracted by life and need time to marinate in God's presence and with a Christian counselor. Spend a weekend exclusively with Jack and Jhael Hakimian's lodging in their cute Airbnb located in the beautiful city of Pembroke Pines, South Florida (Between Miami and Fort Lauderdale), eating with their family and privately at a local restaurant(s). Experience private sessions at the beach and in their office with an emphasis on going deeper and higher in relational and inner healing. The retreat is not your typical one at a resort or mountain space. This retreat is lavish means to engage in the discipleship counseling that exposes your counselors' lives and not just their talk. Jesus developed his disciples by spending intimate moments with them. Jack and Jhael teach couples how to create a rhythm of spirituality, work, rest, and connection as they live life in the trenches. The couple's retreat is an investment into your marriage to reap results that money can't buy-Peace, Love, & Joy (Galatians 5:22)!
$700 includes lodging in Airbnb Guest Suite (Shower/Bathroom/Basic Amenities), 4 wonderful meals/unlimited snacks, 4 private 1-2 hour sessions, and other wonderful surprises.

Itinerary Includes times for Meal, Counseling Sessions, Devotionals, Recreation, Rest & Free Time For Couples To Enjoy South Florida.

365 Day Follow Up: 1 Free Office or Webcam Session Every Quarter.

For Married Couples Only. No children, neighbors or pets!

Located in the beautiful city of Pembroke Pines, South Florida (Between Miami and Fort Lauderdale)

The retreat starts Friday at 5 pm and ends Sunday at 5 pm.

Deposit $350, full payment 5 days before the retreat.

Deposit refundable 30 days before the retreat.

If retreat full with another couple please sign up for the waiting list due to last-minute cancelations.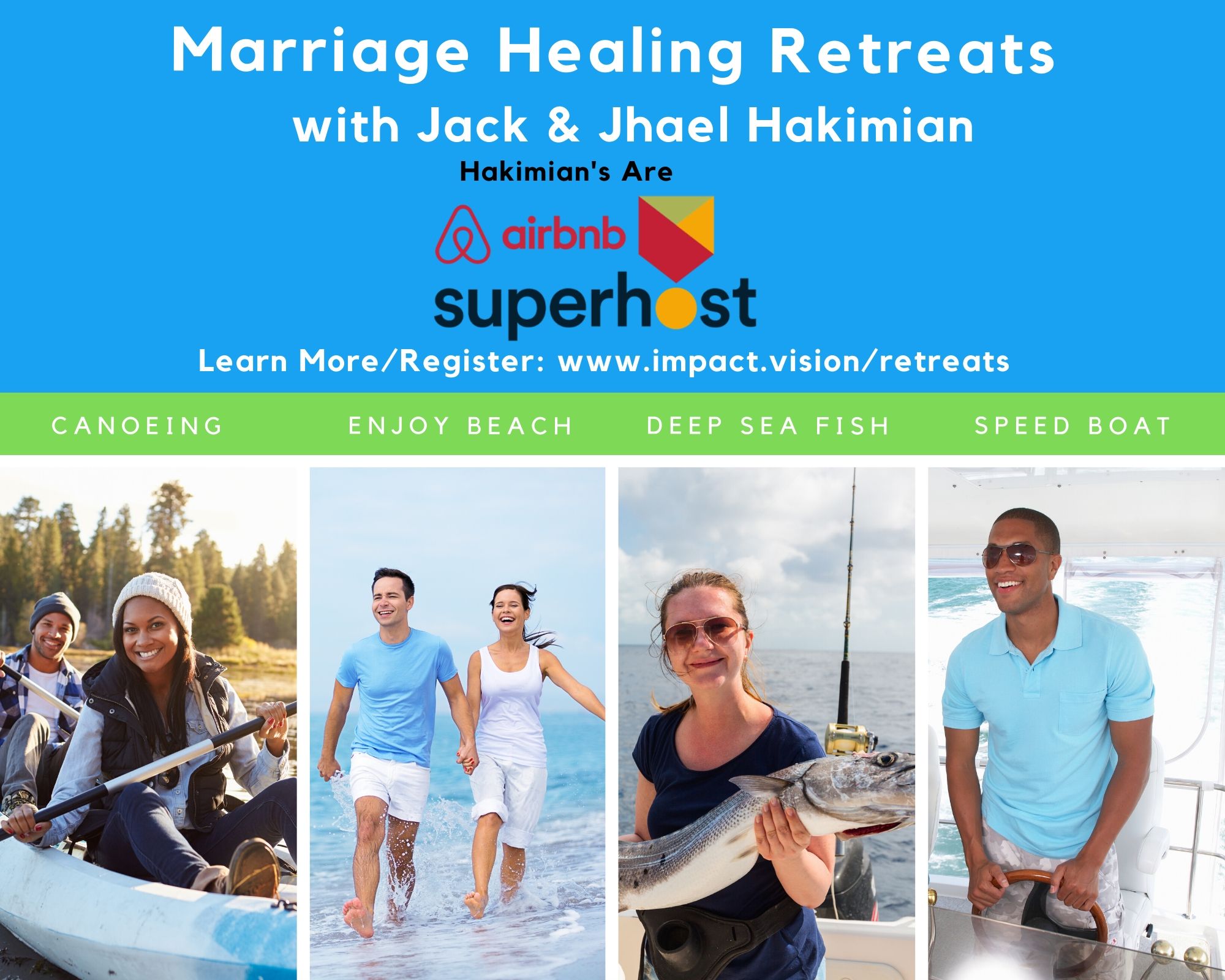 Sincerely,
Jack & Jhael Hakimian