Helping To Create A Blessed Experience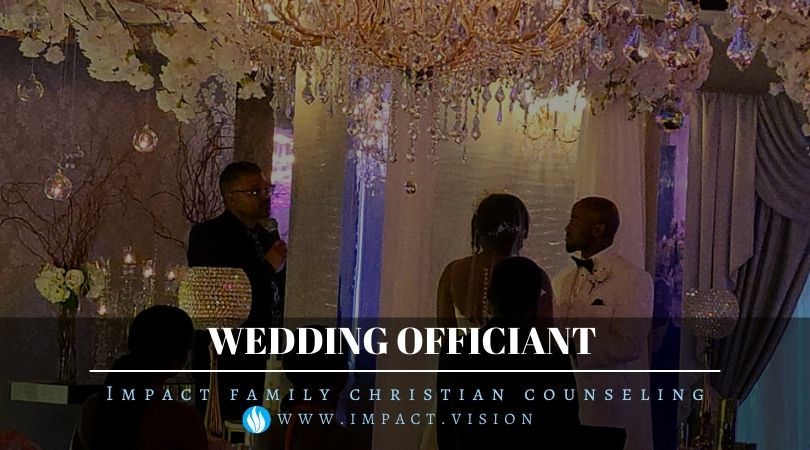 Wedding Officiant Guidelines
All couples must complete pre-marital counseling either with an Impact Family Counselor or another Christian-based ministry.We love weddings and would do them for free if we could. Since all of our counselors and ministers have families and expenses we have to request a living wage contribution.
FIVE BENEFITS OF OUR WEDDING OFFICIANTS:
(1) WE UNDERSTAND THAT THIS IS YOUR WEDDING
(2) WE HONOR AND RESPECT YOUR WISHES
(3) WE MAKE YOU FEEL CALM AND SAFE
(4) WE PROVIDE GUIDANCE
(5) WE OFFER PRE-MARITAL COUNSELING SERVICES
The wedding officiant suggested contribution comes in three plans that do require an overtime deposit:
PLAN 1 – $400 + $200 Overtime Deposit, Rehearsel, Wedding, & Optional Reception Prayer (4 hours Max).
PLAN 2 – $800 + $200 Overtime Deposit, Rehearsel, Wedding, & Optional Reception Prayer (8 hours Max). 
PLAN 3 – $1,000 + $200 Overtime Deposit, Rehearsal, Wedding, & Optional Reception Prayer (10 Hours Max).
OVERTIME DEPOSIT – There is a mandatory $200 overtime deposit that is returned within one business day after the wedding with Zelle. The couple is charged 1.65 centsper minute from the deposit if service exceeds the maximum time. 

PAYMENT TIMING & PLATFORM – Once the date is confirmed by Impact Family Wedding Officiant by email the contribution should be made in advance to secure the booking by Zelle to admin@impact.vision
Impact Family Inc. is a Christian faith-based 501(c)(3) non-profit organization (See Tax Exempt Certificate). All contributions made to our organization are tax-deductible based on the current IRS stipulations. Giving towards your wedding ceremony helps us continue in the work of the Lord.  Thank you for your generosity in Jesus' Name!
What Is Christian Counseling
Christian counseling is confidential, Bible-based counseling by one trained and experienced in both pastoral and counseling ministry.
Christian counseling is not designed to treat severe mental illness. We do not perform psychiatric or psychological evaluations, nor prescribe medication.
The Christian counselor uses prayer and scripture to welcome God's presence in the healing process.
A typical counseling session lasts one to two hours. After the first meeting, the counselor will make recommendations for follow-up appointments, growth assignments, Christian spiritual practices of grace, and participation in other support ministries, well as a fellowship with a local corporate or house church, or small group ministry.